Blogger and WordPress are the most used content publishing platforms, but, when it comes to start a blog or website everyone has a dilemma to choose which one of them.
All newbies still being confused about which platform will be perfect to choose from blogger vs WordPress for SEO factors. But while thinking about which platform is best for all the popular SEO Factors to rank in SERPs.
Blogger vs WordPress SEO Factors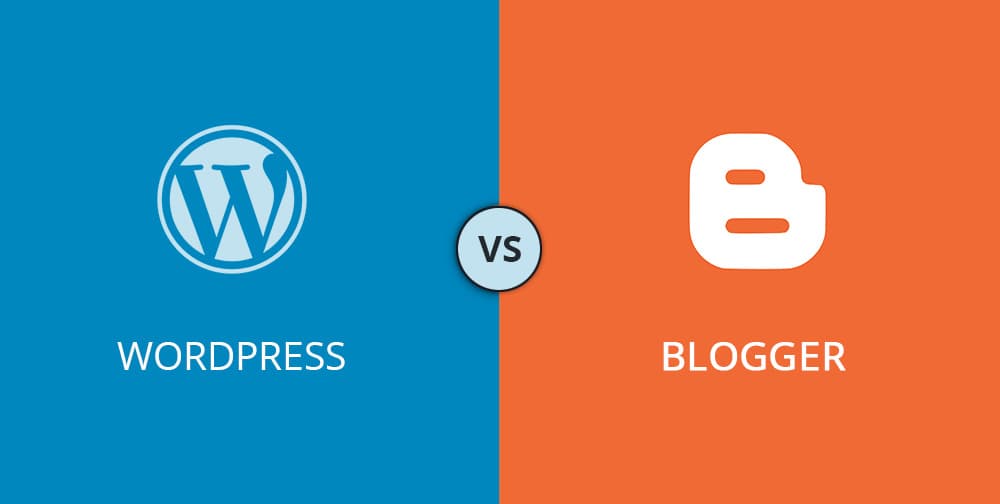 Consider two factors while choosing a platform to start a blog.
Budget Factor: As a beginner, you don't want to spend much unless you got a perfect knowledge of what you are doing or working on. So, it depends on your level of knowledge to spend money on a Self-hosted website or a free blog platform.
We are not going in too deep about this as we can choose from various platforms which range from free to 10$ per month.
Blogger vs WordPress Offered SEO Features
| | |
| --- | --- |
| Blogger SEO | WordPress SEO |
| URL Structure: will be "yoursitename.blogspot.com" (Free) You can buy a domain name (costs around $10 per year) and route it to your blog | URL Structure: will be "yoursitename.com" you need to purchase a domain name from a domain registrar like bigrock or Godaddy. |
| Storage Space: 1 GB Storage Space can be used per blog and you can register using a google Email ID | Storage Space: Many Domain and Webhosting companies provide Unlimited Storage space along with the domain name costs about $4 per month. It's better to use local web hosting services for faster website speed. Bigrock provides a wide range of web hosting services which includes a Specialized WordPress hosting service |
| Website Design: You have limited access to design your page, No FTP access, you can edit template design or your can copy free blog templates available on the internet as per your requirements. | Website Design: You have total control over the design of your website. You will have your own Cpanel to design. |
| Plugins: Blogger offers no plugins, but you have some gadgets to use. | Plugins: WordPress offers a wide range of plugins that makes your work easier. Especially for SEO |
| Monetize: Blogger offers Gadgets through which you can easily integrate AdSense into your blog. But you don't have much control over the placement of the ads, which reduces your CTR. | Monetize: WordPress offers many themes which are SEO Friendly and Adsense Ready, and you have total control over the placement of ads. You can even run your own Banner ads through some plugins. |
Though there are many pro bloggers who have achieved great results with blogger.com, always had one step down in the view of SEO and as well as the comfort and control.
SEO Factors that Favors WordPress than Blogger
WordPress vs Blogger URL Structure:  The URL Structure places an important role in ON Page SEO Optimization.
Let us see this with an example:
Blogger URL Structure:  http://yoursitename.blogspot.com/2021/01/abc/
WordPress URL Structure: http://yoursitename.com/abc/
Best SEO Practices:
Keep your URL Shorter
Keyword placed at the first has more impact on your SEO than that of the others.  In the above example, the WordPress URL has the best placement of your keyword.
WordPress vs Blogger Design: 
When we compare WordPress with Blogger, WordPress have more flexibility for designing your website/blog page than blogger, as WordPress comes with web hosting which gives you total control over it.
Note: The best design always gives you better results in SEO.
WordPress vs Blogger Plugins:
Blogger offers no plugin services, instead, it has gadgets which can be useful for simple things that have no impact on SEO, Used just for appearance purpose. Everything must be done manually in blogger.
Coming to WordPress has lots of plugins that offer many services that will improve your SEO.
So, if you want to make an impact online by starting a website or blog, I recommend you to start with blogger learn some basics and shift to WordPress to make it large.