Cyberdost Twitter Handle MHA (Home Office) has launched a Twitter handle named Cyberdost to spread awareness about the prevalence of cybercrime in the country. This Twitter handle will provide all the necessary information related to cybercrime to the public.
Cyberdost Twitter Handle: In recent years, people's access to the Internet and smartphones has become easier. Along with this, cybercrime has also increased. Which is also affecting the law enforcement agencies of the country. Government agencies are taking various measures to reduce this problem and help the citizens of the country.
Cyberdost Twitter Handle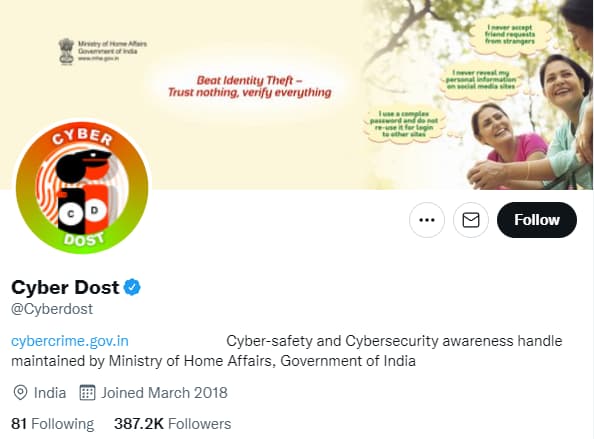 The MHA (Home Office) launched the Twitter handle '@CyberDost' to raise awareness about the spread of cybercrime. Let us tell you, that this Twitter handle has tweeted more than 1,066 cyber safety tips through short videos, images, and creatives. He has more than 387.2K Followers on 28/4/2022.
The central government has sent SMS worth more than Rs 10 crore to the public on cybercrime awareness. Along with this, he has also campaigned on cyber-crime prevention and shared cyber security tips using videos and GIFs on various platforms like Twitter, Facebook, Instagram, and Telegram.
Apart from this, the government has also taken measures like the publication of 'The Juvenile/Student Manual on Cyber ​​Security. The government also organized Cyber ​​Security and Security Awareness Week in several states in collaboration with Police Department and through C-DAC.
Indian Cyber ​​Crime Coordination Center (I4C)
Indian Cyber ​​Crime Coordination Center (I4C) has also issued Cyber ​​Crime Advisory to States/UTs, Ministries/Departments as a preventive measure. Delhi Metro has also been asked to publish the National Cyber ​​Crime Report at the local level.
The government released two bilingual manuals on "Cyber ​​Hygiene for Cyberspace: Do's and Don'ts" in January 2022. The government's goal was to provide basic cyber hygiene with regard to internet security, email, mobile security, etc.
The Home Office has requested the States/UTs to host the Cyber ​​Swachhta "Cyber ​​Awareness Day" on the first Wednesday of every month from 11 am to 6th October 2021. Apart from this, an awareness campaign in local languages ​​is also being conducted in all schools/faculties. Along with this, the Ministry of Education has been requested to start courses related to cyber security and cyber hygiene from classes 6th to 12th. So, if you ever found any issue regarding cybercrime, that time you can tweet on Cyberdost Twitter Handle and submit a crime report instantly.