Funny WiFi Names – Best Funny, Clever and Cool Wi-Fi Names
Funny WiFI Names: Everyone dreams to do something unique or something funny and in this process, people start adding a name to their WiFi connection which makes it funny and cool. Nowadays, everyone has a Wi-Fi connection and they put a password on it to keep it safe. Also, there are lots of people who change the name of their Wi-Fi and add some funny names which are really funny. But, there are lots of people who are looking for some of the funny WiFi names so that they can change the name of their Wi-Fi and make it attractive. 
Funny WiFi Names – Best WiFi Names To Be A King of Router Names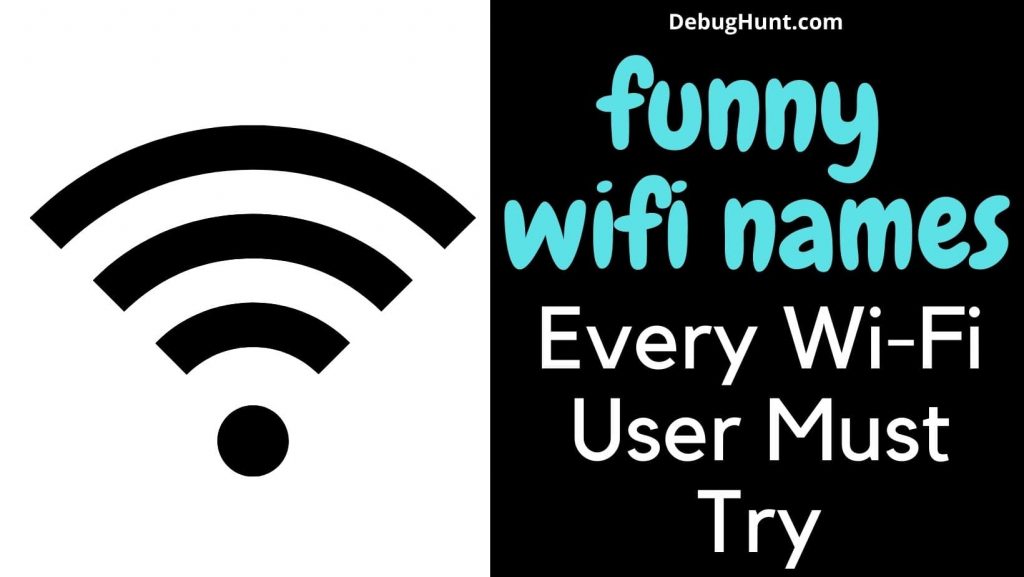 If you are the one who is looking for the funny Wi-Fi names or the best and clever WiFi names for their Wi-Fi then this article is something which you must need to read. This article helps you to find out some of the best and cool wifi names which you really loved. So, stop wasting your time and start reading this article before any other person steals your favorite Wi-Fi name. 
It all depends upon the setup of your WiFi and also the restrictions of your WiFi because you will find that you need to use a special character such as a question mark which was not allowed in the name of your WiFi. If you are facing this problem then you don't need to worry about it as here we are sharing some of the ideas which you need to go through. 
Funny WiFi Names:
If you want to get a funny name for your WiFi then you must need to go through with the below-given names. These Funniest WiFi names are capable of making you laugh and also other people as well who get connected with your WiFi. 
Papa or Sipaya?
WiFi High-Fi
My Waifu
The Promised LAN
All Your Bandwidth Belongs To Us
Please Connect for Identity Theft
You Shall Not Pass!
Connect with God?
Help! I'm trapped!
No It's Not Free
Enter The Dragon's Network
Connect to Unsecured Wi-Fi Network?
Don't even think about connecting
Top Secret Network
Metro Train Network
Get Your Own Wi-Fi Loser
This Is My Internet Damn It
No Thing As Free Wi-Fi
Lousy Network Connection
Not Free So Use 3G
WaahFive
Tell My WiFi Love Her
Begin Loading Virus?
Free Wi-Fi Does Not Exist
Password Is Password
Look Ma, No Wires!
Get Lost Connection
Not Free, Keep Looking
Wi-Fi Not Connected
Bro Get Your Own Net
99 Problems but WiFi Aint One
My Wi-Fi Is Loyal
LAN of Milk and Honey
Troy and Abed in the Modem
Wi-Fight The Inevitable
Drop It Like It's a Hotspot
404 Network Not Available
No Wi-Fi Network in Area
Occam's Router
Searching…
I'm Cheating On My Wi-Fi
Access Denied
Unsecured Network
My Neighbors Suck
DEA Surveillance Network
Net Secure by NSA
Bill Clinternet
Clinternet Eastwood
C:\Virus.exe
Optimus Prime Network
The LAN Before Time
WhamBam Thank You LAN
Malware Directory
I'm watching you now
Network Not Found
Get off my LAN
Cool Names for WiFI Networks: 
There are lots of people, especially youngsters who want to keep their WiFi name cool. If you are one of them, who is looking for a cool WiFi name then you must check out the list which we are sharing below. We assure you that you would love to see these names.
Making Wifi Great Again
FBI Surveillance Van
Abraham Linksys
John Wilkes Bluetooth
Stop Being A Mooch
The LAN Before Time
Nacho WiFi
It Burns When IP
It Hurts When IP
Bill Wi, the Science Fi
Girls Gone Wireless
Funny Wifi Name
New England Clam Router
Clever Wi-Fi Network Names
Please Connect for Identity Theft
Mom, Click Here for Internet
This is Not Free Either
Pretty Fly for a Wi-Fi
LAN of Milk and Honey
LAN Solo
Wi believe I can Fi
LAN Down Under
Password is 1234
Cut your lawn
Spying On You
Hogwarts Great Hall WiFi
Lord Voldemodem
Hide Yo Kids, Hide Yo Wi-Fi!
TellYourWifiNeedMyPantsBack
Friendly Neighborhood Spider-Lan
OhMyLordItsaWiFire
Definitely Not An FBI Surveillance Van
Virus Infected WiFi
Access Denied
Skynet Global Defense Network
NO WIFI FOR YOU!
I'm cheating on my WiFi
Benjamin FranLAN
Vladimir Computing
Help, I'm Trapped in This Router
It's a Small World Wide Web
A Van Down By The River
Series of Tubes
Go Go Gadget Internet
WeCanHearYouHavingSex
The Promised LAN
WI-FIght the inevitable?
Silence of the LANs
Occam's Router
Get off My LAN!
Click Here for Viruses
Router? I hardly knew her!
Vance Refrigeration
Wu-Tang LAN
I Can Haz Wireless?
Drop it like it's a Hotspot
Look Ma, No Wires!
All Your Bandwidth Belong to Us
Dunder Mifflin
Network Not Found
LANdo Calrissian
Wi-Fi Network? Why Not Zoidberg?
2 Girls, 1 Router
One Does Not Simply Log Into Mordor
Bill Clinternet
Winternet is Coming
99 problems, but WiFi ain't one
DHARMA Initiative – Station 4
The Wireless-G Spot
The Net starring Sandra Bullock
Y No You Get WiFi?
I Pronounce you Man and WiFi
Keep it on the Download
I'm Under Your Bed
Ermahgerd, Wi-Fi!
Wi-Fi, Wi-Not?
WiMCA
Searching…
Connection Lost
C:Virus.exe
Trojan Virus
Connecting…
Loading…
Setting up…
Clever WiFi Names:
Clever Wifi names are something which is in demand by lots of people. People love to add a clever name to their WiFi. If you are the one who wants to get a clever name of their WiFi then read the below-given names carefully. We share the best list of clever WiFi names which you must check. 
Nerdy WiFi Names:

 
Lots of people love to put some nerdy names on their WiFi which will be so annoying because at present there are very few people who love nerdy stuff. If you are a classical lover and want to put a nerdy name on your WiFi then you must need to check out the below-given list. We create this list by doing good research.
Bill Wi the Science Fi
A LANister Never Forgets
Winternet is Coming
House LANister
LANnisters Pay Their Debts
LANnisters Send Their Regards
You Shall Not Password
The Ping of the North
The Mad Ping
House of Black and Wifi
Comcasterly Rock
Lord of the Ping
One Wifi to Rule Them All
Routers of Rohan
Huge Tracts of LAN
The Black Links
The Force
May the Wi-Force Be With You
These Are Not the Droids You're Looking For
A long time ago…
Harry Potter WiFi Names:
Harry Potter is one of the famous names in the entertainment industry. If you are also one of the big fans of Harry Potter then you are required to simply check out the below-given list which has a cool collection of harry potter wifi names. 
Dumbledore's IT Staff
Connecto Patronum
Squibs Only
Floo Network
Hogwarts Hall of Wifi
rIP Hedwig
Common Room Wifi
Yer A Wifi Harry
Hagrid's Hut
Accio Internet
Star Wars WiFi Names: 
Star Wars is one of the best movies and there are lots of people who are a big fan of the characters of this movie. If you love the character of this movie and want to place a character name as your WiFi name then simply check out the list which we are sharing below. 
Let the Wifi Win
I am WAN with the Web and the Web is with Me
Luke, I Am Your Wi-Fi
Forest Moon of Endor
Docking Bay 94
The Force
May the Wi-Force Be With You
Jar Jar Linksys
These Are Not the Droids You're Looking For
A long time ago…
Random Names for WiFi Network:
Sometimes, we put a random name on the WiFi connection. If you are not clear about your liking or choice and want to find a random name for your WiFi network then must check out this list where we add some of the random wifi names which you will like definitely. 
Be careful
Rabbits Habits
Stop looking at my WiFi
My WiFi is my Life
Do you even browse?
I know what you browsed last summer
You can't find it
No Networks Available
Have a nice day
Keep on trying
Hogwarts Network
IAmUpToNoGood
Go away, Muggle!
Yer a WiFi Harry
The Black LinkSYS
The Hogwarts School of Internet Browsing
WIREguardium Leviosa
Let the LAN choose its Wizard
Her and Mine Ginger
Order of the Phoenix
The Ministry of Magic's Secure WiFi
The Mystery of Darkness
It's LeviOSA not LeviOSAH
Expelliramus your Browsing History
Lord Voldemodem
The Patronus Charm
Ravenclaw WiFi
Slytherin Common Room WiFi
Hogwarts Express
Always a Wizard
Alohomora is the password
Incredible WiFi Names
NoFreeWiFI4U
Searching…
New England Clam Router
All Your Bandwidth belongs to us
The Promised LAN
Pretty fly for Wifi
Hide Yo Kids Hide Yo WiFi
LAN of Milk and Honey
99 problems but WiFi ain't one
Super Thanks For Asking
WillUmarryMe?
Mom Use This One
Go Home Tourists
BuyAnotherCupYouCheapSkate
Your grammar is more annoying
Your music is annoying
I'm cheating on my Wi-Fi
Occam's Router
404 Network Unavailable
Wi-Fi Network?
Please Connect for Identity Theft
The Promised LAN
Child Toucher
Feel Like Flying
GetoffmyOffice
Beautiful lady
Awesome Voice
This is not free either
Troy and Abed in the Modem
Don't even try it
No Free Wifi for you
My Damn Internet
TellMyWifiLoveHer
Virus Infected WiFi
GetOffMyLawn
You Pay Now
Sweet Adeline
Bill!Bill!Bill!Bill!Bill!
Yummy
God is our Rock. He'll save you!
Fork you!
House LANister
One Does Not Simply Log Into Mordor (for Lord of the Rings fans)
The Dark Knet
Dunder-Mifflin
TopSecretNetwork
Total Hear
Butter Back Off
Drop it like it's Hotspot
Ha Ha next time lock your router
6thSenseMobileWiFi
Bang Bang!
F.R.I.E.N.D.S
Skynet Global Defense Network
lookmanowires
Hide Yo Kids Hide Yo WiFi
Uncrackable
Obi-Wan Kenobi
Tony Stark's LAN
WiFi Names Inspired by People:
Everyone has an inspiration in their life whom they follow. If you are also one of them who is inspired by someone then you can simply check out the wifi names inspired by people. We create a huge list of WiFi names and we assure you that you love to read about these names. 
Wi-Fi Network? Why Not Zoidberg?
pennygetyourownwifi
It'sDangerousToGoAlone
Game of Thrones WiFi Names
House LAN-ister
Kings LANding
The Ping Slayer
Ping's LANding
All Men Must WiFi
WiFi Is Coming
John knows everything now
Browsing Strong
Hot Wi
We Do Not Load
Ours is the WiFi
The Night's Ping
Azor WahFai
WiFi of the Dorn
Khaleesi's Konnection
LANnisport
The Master of WiFi
Oathkeeper
Wight-Fi
The Site's Watch
Wi-Fire and Blood
Song of WiFire and Ice
Tyrion LANister
Martell of Sunspear
LANnister of Casterley Rock
Also Try: CouchTuner Alternatives to Watch Best Movies Online
Final Verdict:
Hopefully, we share a huge list and data about the funny wifi names 2021. If you love these wifi names then let us know in the comment section and also tell us a name which you put as your WiFi name. Also, don't forget to share this article with other people as well.