There are so many people who want to know how to delete an Instagram account without losing pictures or videos so they can use those pictures somewhere else or just keep the memories with them for a lifetime.
So, if you want to take a break from Instagram then you can follow this guide and you can trash your Instagram account easily without losing your Instagram database.
Before deleting your Instagram profile, you should know why this social media app become so popular among everyone.
Why Instagram So Popular Among Youngsters?
Instagram is so popular worldwide as one of the top best photo and video sharing platform and recently they came up with Reels which is an alternative to TikTok and become popular overnight among TikTok user's who just lose all their followers.
After a ban on Tiktok in so many countries, especially in India the Instagram gain so many userbases in India.
A mobile-based app made available to download on iTunes, Google play store and Apple App store and user don't need to pay for it, as Instagram earn the revenue by displaying sponsored ads to users.
You can sell your Instagram account to Social Media Marketers?
If you are decided that you are deleting your Instagram account then you can sell your Instagram account to social media marketing companies that will use your followers to promote their products and services.
With this, you are free from Instagram but at the same time, have some money in your bank account via your account.
Also Read: How to Delete Smite Account 
How to Delete an Instagram Account without Losing Pictures & Videos?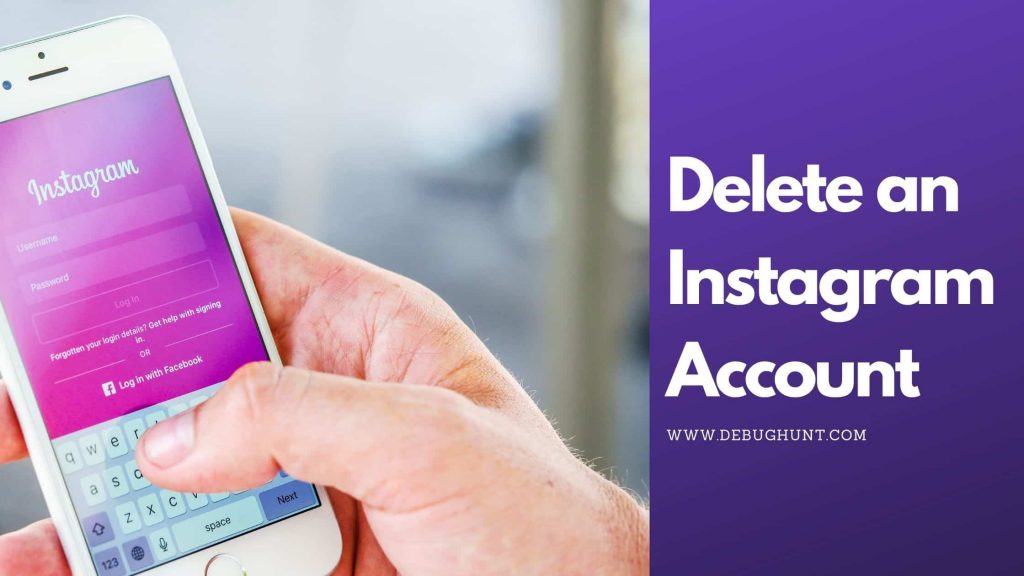 This becomes a difficult task with many Instagram users for years, most of the users on Instagram not able to delete their account permanently and most of them on to dilemma.
Few things you need to understand before deleting your Instagram account.
Instagrammers can delete account permanently
The Instagram account can't be recovered.
Instagram account username can't be used again, even the Instagram account associated with it was deleted.
Photos, videos, followers associated with deleted Instagram account can't recover once you delete Instagram account.
Instagrammers can't claim an account with an email already used to create an Instagram account even after the Instagram account associated with the email  is deleted
Instagrammers are going to understand the following things here 
How to delete or disable an Instagram account temporarily?
How to delete an Instagram account permanently?
How to take back up of stuff and followers on Instagram before deleting your Instagram account permanently?
Disable the Instagram account temporarily
Deleting an account on a mobile app will make the account delete temporarily, is this is true. Here is the process to disable Instagram temporarily.

Instagrammers should log in to their account on Instagram from mobile or from pc.
Click on the account username (ex: ABC) can be found in the Left corner, find the edit profile in the dropdown.
then you can come out with a popup with an option on the bottom right as  "Temporarily disable my account."
Click on the option and follow the set of instructions fired immediately by clicking on the option.
Delete the Instagram account permanently
You have many options to share images other than Instagram includes flicker, Tumbler. You don't want your information to be made public as Instagram was acquired by social media giant Facebook can be few reasons to delete the Instagram account.
Instagrammers are once again should understand that when you delete the mobile-friendly photo sharing app Instagram account you are going to lose permanently your username associated with your profile, photos, videos, comments, likes, followers, access to Instagram from the email associated with the account.
Backup Your Entire Instagram Archive for Backup or Upload
You can use "Instaport" to backup photos on Instagram to other social source or local hard drive as a zip file
We have a copy gram and web interface of Instagram, Instadesk, Social folder (dropbox for Social media ) to backup your social media includes Instagram, Twitter etc.
Next time whenever you want to delete Instagram account you should be prepared.
Hey, Instagrammers we would like to warn you that you can't delete Instagram account from your mobile or smartphone, you need to go with the Instagram Home Page.
Steps to Delete Instagram Account Permanently
Log in to your Instagram account from your pc (must delete account).
you can find the Username in the top right-hand corner, click on the username.
find the "edit profile" and click, in the drop-down resulted due to click on the username.
Results pop up so to edit profile, you can find the button at the bottom corner "I'd like to delete my account", click the button link.
Answer the Instagram team questions i.e. reasons for deleting the account, give the reason that best fit, and click into to continue to reenter the password.
Finally, click on the button "permanently deactivate my account."
even after deleting Instagram account, the staff will still retain with Instagram team
How to use or access Instagram on a Personal computer?
This app is known for its feature "capturing and sharing the sweet movements"
You can't directly view an Instagram on your PC. you need to follow few steps to view Instagram on pc. Below are the steps that can help you find the solutions for the users facing an issue as discussed above.
You need to download an app to iPhone, Android headset or any other Instagram compatible smart device, you can download the Instagram app from the Apple App Store, Google play store, windows phone store.
You need to register or create an account from a mobile device and activate it by verifying with your mobile no(used for future reference when you forget your password) or email(used for future reference when you forget your password) or with your Facebook account.
You can enjoy the Instagram services on your computer after activation only.
don't bother if something went wrong during your account creating process, you have the advantage to update these again if needed.
You can change your username and email & mobile no associated with your Instagram account. Different versions of Instagram has different ways to confirm the update info they are done with iPhone, Save with android, check button with Windows phone.
Here is an additional future with Instagram i.e. you can even update your personal information from your Instagram web profile or Instagram web account though it is a mobile-based app, Social media lovable users you can now enjoy the features of Instagram with your account via Personal Computer or Mobile Device.
Share your moments, trendy snaps, lovable videos, follow the famous Instagrammers, activate automatic social sharing feature to share the updates on Facebook, Twitter, LinkedIn, tumbler and more which increases your social presence. Update your Instagram account with high-quality images to grab the interest of Instagrammers so that they can follow, they can like, they can share.
Hey, you being a star, celebrity, public figure you can take advantage to have a verified badge for your profile. Don't feel disappointed or not being a star or public figure, you can show you're authentic through linking your Instagram account profile  with your official website, Facebook page, Twitter account
Use Instagram to Improve Your Business 
Make the difference in your marketing, a business trying Instagram in your social media strategy, more and more businesses and marketers already using Instagram to raise their popularity.
Instagram started Instagram for a business blog to help business leaders to go beyond in business, understand the ways to use Instagram for their business, reach their niche audience using Instagram.
Tell about business with fun images, tracking the image engagement is essential to understand your followers.
Increase your followers by connecting Instagram with Facebook, using popular hashtags, liking and following other niche related Instagrammers.
Undergo Cross posting to your Facebook page.
Use the best video future on Instagram i.e. video on Instagram (editable, filter-enabled, 15 seconds length supported).
Sharing industrial trends, Optimizing Your Instagram-account-profile.
Final Words
Deleting your account can't be recovered, the username can't be used again, the email can't be used again to create a new account on Instagram, all the staff will be deleted. Still retain with the Instagram team, so we need to save our work before deleting the account with other social service or store to phone or hard disk.
If you still have any query then do let us know in the comment section below and we will get back to you as soon as possible.