The msfeedssync.exe is a valid file, which is also known as Microsoft Feed Synchronization. This file is responsible to update the RSS feed information in Internet Explorer or other browsers. That is why it is usually stored in C:\Windows\System32. Cyber Criminals write malicious programs and they spread infection using the Internet and they name it msfeedssync.exe to damage the hardware and software in the Windows Operating System based PCs or Laptops.
Recently we also shared a similar exe error called aswidsagenta.exe and you must read that guide to fix it asap.
MSFeedsSync.exe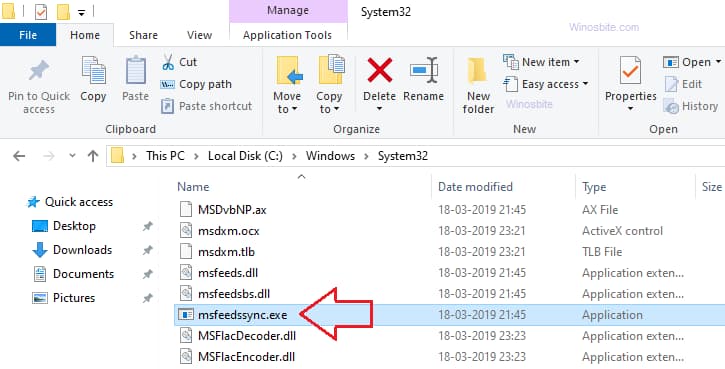 In this article, we are going to share the complete information regarding this file as well as with this article, you will be able to remove this file successfully. So now, let's take a look below to know more about it.
What is msfeedssync.exe?
The msfeedssync.exe file is mainly designed to initiate the synchronization of your RSS feeds.
RSS stands for Rich Site Summary are the links which you can subscribe to on any changes of the said site. You can learn more about How RSS Feeds Works on the official website.
If you have many sites that you check on a daily basis then you will use them.
RSS feeds send all the updates from the site so you don't need to check back it all the time to view the difference. You just have to subscribe to RSS feeds and it sends you all the updates. These updates are provided via feed reader or Outlook.
For those of you who do not know, an exe file is an executable file that the computer uses to use the pre-prescribed function according to the instructions.
This is an exe file specifically for running RSS feed synchronization in Internet Explorer. It will run at the interval you set in the Internet Options. However, there may be some problems with msfeedssync.exe or another program.
Windows Fixes
On the Windows-based system, these issues will appear in the system log. If you want to check the system log, then you have to go to the Control Panel > Computer Management > Computer Management > Event Viewer > Windows Logs.
In this section, we are going to mention two sections that you require to worry about are Application and System. These errors set usually appear in the application.
Nine Potential Fixes
At first, you have to Repair Registry Entries Associated with Internet Explorer 9.
Then you have to perform a full Computer Malware Scan.
Then you have to clean out your System Junk (Temporary Folders and Files) with a disk cleanup tool.
Then you have to update the device drivers of your computer.
After that, you have to employ the Windows System Restore to "Undo" any recent system changes.
Then you have to Uninstall and Reinstall the Internet Explorer 9 Program associated with the Msfeedssync.exe.
Now, you have to run the Windows System File Checker ("sfc /scannow").
After that, you have to install all the available windows updates.
And then perform a clean installation of the Windows.
Look At the Errors
Below we are going to share the most common errors and that is:
"Faulting Application Path: msfeedssync.exe."
"Msfeedssync.exe is not a valid Win32 application."
"Cannot find msfeedssync.exe."
"Msfeedssync.exe failed."
"Msfeedssync.exe not found."
"Msfeedssync.exe Application Error."
"Error starting program: msfeedssync.exe."
"Msfeedssync.exe has encountered a problem and needs to close. We are sorry for the inconvenience."
"Msfeedssync.exe is not running."
The common causes of the msfeedssync.exe errors are:
Viruses or Malware
Corrupt Windows registry keys
Deletion by the other programs either intentionally or unintentionally
Internet Explorer 9 corrupted or not installed correctly
Programs conflicts
Most of the time, during the program installation, these exe error messages will occur.
They can also occur during the installation or startup of the operating system and shutdown of windows. Getting informed regarding when the error occurred may be an important part of the troubleshooting of the application.
While program errors like we mentioned above are one of the most common problems, there are many other factors that should be taken into account, that one of them are viruses.
A virus can affect or transform this file to effectively infect itself. This can then infect your computer with malware or malfunction.
These viruses are usually distributed through a malicious website or spam email, so when you open an email make sure you know before you click on anything.
You have to be sure that any kind of executable file that you download to your computer from another source should be scanned with a virus scanner just before opening. This should be done even when you consider a reputable source.
How to Turn It Off
In today's society, many people don't use RSS feeds. None of the people I spoke to knew what they were. While they had heard of them, they would never use them. If this is the case, then it is a good idea to disable the RSS feed.
As we mentioned above that there are viruses and malware that can come into your computer and copy it.
If you want to disable the program then you have to simply go to the Control Panel > Internet Options > Content tab > Feeds and Web Slices Settings.
On Symantec, the fixes are as follow:
At first, you have to open Internet Explorer (IE).
Then you have to navigate to Tools > Internet Options.
Then you have to switch to the Content
From the Feeds section, you have to click on the Settings.
Then you have to uncheck the "Automatically check feeds for Updates" option.
After that, you have to leave the Internet Explorer and then you have to reboot your server.
The RSS Understanding
The RSS stands for Really Simple Syndication. This is ultimately an alternative way of subscribing to the blog than email updates. When you use an RSS reader and share the RSS feed for the Internet site you want to subscribe to, it will automatically syndicate every new publication on that website.
Basically, this is a great way to collect all the news you are watching without the need to visit multiple sites or handle a lot of extra emails.
So you can stay on the pulse of what is really happening and show it to all your friends. You can see individuals claiming that RSS is dead – and this may be true for some people since social media marketing.
Each of these places where you can now follow a particular blog or brand that you can possibly see what they publish, but if you are looking for a dedicated place, you can go and you will be able to check all the news you are enthusiastic about again without the noise of Twitter updates and Facebook posts, then RSS is an extremely wise decision.
Another reason you will find that it is not dead yet is if you make your visit to a blog that you like to read regularly – many still have RSS subscription options available.
So when you discover the information and facts you are ultimately looking for, a syndication feed for their blog is a great place as far as you can go.
When it comes to choosing an RSS reader, you may prefer all your news to Google Reader — but the sad thing is that it has been removed.
Eight Google Reader Alternatives
If you are looking for an RSS reader, then below in this section we are going to share some Google Reader alternatives. So now, let's take a look below.
Panda
Feedly
Feed Wrangler
Inoreader
NewsBlur
The Old Reader
Feeder
G2Reader
Whether it is lifestyle or breaking news blogs, most of the RSS readers let you customize your curation. By tags or folders, you may probably separate them.
It will have a lot of sharing buttons – so it will be easy to tweet your favorite stuff or post on Facebook and especially Google.
Final Words
Hopefully, this article will be beneficial for you. All the information that we mentioned above in this article will help you to know more about msfeedssync.exe file as well as with this article you will be able to remove it successfully.
So now, if you want to share your feedback or if you have any queries or any suggestions regarding this article, then you can comment below in the given comment section and share your experience with us, we will get back as soon as possible.