Opengl 4.1 Rules of Survival renders the library that is used to render the details related to the game. This is basically installed with graphics drivers for the dedicated as well as integrated graphics cards, such as NVIDIA or Intel HD graphics.
Before you dip into the topic and start downloading the RoS PC client, you, first of all, have to check whether your computers support Open GL 4.1 or better.
And in case your computer doesn't support the minimum requirements, you will be able to see the Netease logo that gets stuck with the message:
Opengl 4.1 Rules of Survival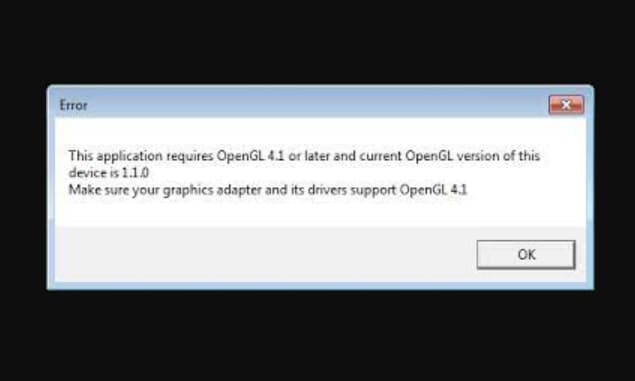 "This application requires OpenGL 4.1 or later and the current OpenGL version of this device is (version number)
Make sure your graphics adapter and its drivers support OpenGL 4.1"
And soon after that, you will see another error message:
These errors usually can be found when you are working with Laptops that run on integrated graphics of Intel HD Graphics 3000 family or older than this. And if you have not yet downloaded the rules of Survival still, simply check out and make sure your graphics render can run this game properly and precisely.
Tips to Check OpenGL Version into Your Computer
Now to do that you can find a number of different ways that help you out but yet you are given some of the most effective ways here below helping you in some way or the other:
Formula 1: via GPU Caps Viewer
GPU Caps Viewer is basically a lightweight utility program that helps you to view your graphics and specifications and you can start with the below-given step-by-step procedure.
First of all, you will have to download GPU Caps viewer from the direct link here www.ozone3d.net/gpu_caps_viewer/
Once you have successfully downloaded it, open the GPU Cap Viewer Folder and then start the Executable.
The highlighted area you are being shown above in the image shows the OpenGL version of machine 4.0.
Formula 2: OpenGL Extensions Viewer
The other application for checking GPU specs is Open Extensions Viewer.
Start the procedure by simple Download of OpenGL Extensions Viewer from realtech-vr.com/admin/glview.
Once you have downloaded this, simply install it through the setup wizard.
Finally, launch the program.
Now you will be shown all the details right here with the video card as well as the system information right here.
You can use the other program mentioned above and you don't need both of them. If you find the computer compatible with OpenGL 4.0 or higher (although the error message shows 4.1) and this further means that you probably run rules of survival. And if it is lower than 4.0 and then your PC's GPU is not supported. However, you have a solution for this you can find below.
How to solve Rules of Survival Open GL 4.1 Error for PC Version
OpenGL32.dll is the file that is being used for troubleshooting issue that concerns graphics. This further can be used to disable GPU hardware acceleration and you can also switch to using CPU instead. This deal is for laptops that usually run on Intel HD graphics cards and can also be used to run RoS PC and bypass OpenGL requirements.
However on the other hand simply make yourself aware that open32.dll is meant for debugging purposes and is not suitable for the replacement of the graphics card. Rule of survival may lag severely or you can experience a low FPS that also depends on your hardware. In general, the older your computer hardware is the more its performance decreases.
How to download and Use openGl32.dll to fix Ros
Here also, first of all, you will have to download oepnGl32.dll and this you can do from the direct link you are being given here www.mediafire.com/file/wx00dq1kd4e4d5d/OpenGL32.zip/file
As you follow the above link and download the file, you can find the file in Zip format, and first, you will have to unzip it.
Now select either 32 or 62-bit window version for your system and if you don't know which one to download, then simply choose 32 bit.
Now drag and drop this openGl32.dll file you have downloaded in the same directory you have rules of survival installed. Usually, it is C:\ros
Done! Now you can simply start the game.
This method helps you to bypass the net ease logo and you can further check the rules of survival by downloading updates.
IN the given screenshot above, which has been taken from the old core 2 quad desktop that is running GL 1.1 with integrated GPU. RoS did run with the reduced graphical issues as expected, but it could not launch and download the updates anyway.
The game is likely to perform better by simply enabling "High FPS Mode" under Setting. Ideally, computers with modern processors such as i5 or 17 core can help you with its smooth playing.
Note: the game performance may vary or can still be unplayable. So, keep that in mind if you try this.
More Related Guide: 
Final Words
Hopefully, the Opengl 4.1 Rules of Survival fixing method mentioned above help you with playing the RoS PC version and bypass the OpenGl error message without any need of upgrading your graphics card.
From the article, we have tried to give you all the processes best suiting to resolve your issue that is being caused by in-game access.
This Opengl 4.1 Rules of Survival Fix is easy to fix by the methods you are being given above.
Not only that you have a direct link with the instruction so that you don't face any hovering issues here and there and get the solution by navigating the link.
The FAQ section further helps you with other clarification in this same regard. These are already asked questions in this regard and hope this also stands helpful for you.
Finally, you are given the comment section below that helps you with sharing any opinion or tip you have with your colleague readers.