Error 907 Google play store is one of the fanciest inventions that has changed the entire digital industry. A smartphone would never have been this smart if it did not have the Google play store tool.
Google play store is one market where you will each and every application that makes your life and work easy and hassle-free.
Fix Error 907 on Google Play Store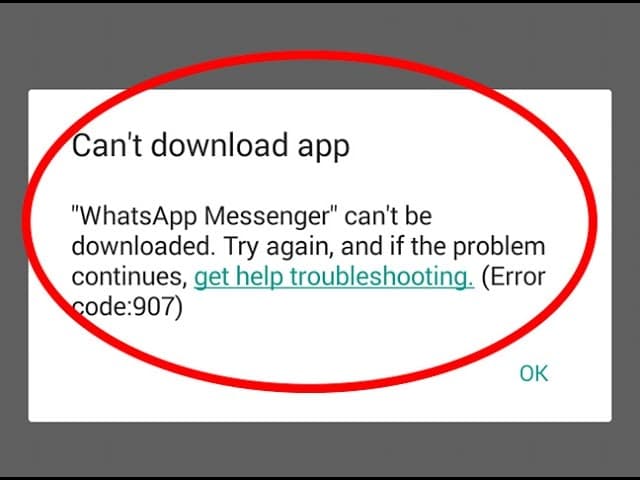 From candy crush to ordering food, from playing games to seeking directions, Google play store has everything you need, and the moment you ask for it you get it with just multiple clicks.
What is Error 907 & How to fix it?
Error 907 is one common error that users generally face while they access to google play store.  These smartphones not only connect people across borders but also serve you everything within a few minutes; I think we do not need to ask for more.
As we know everything takes effort and having games and videos within a moment come with a price and for that, you need to install the application itself on your phone. The download functions quite smoothly and you will be able to enjoy it within some time but sometimes downloading the app can create trouble and you will not get what you want so easily.
If you are an android user then you might have faced a pesky error that suddenly occurs on your screen with an error message that reads – "Error 907".
Understand Error 907
In simple words, it is a bug in the google play store. The specific error 907 can occur when you are lacking memory space on your mobile phone. When you try to download something important tool and even the updated version of the Google play store does not help you.
The most common reason for this error that has been discovered is that when the cache files started conflicting with google play you will likely face this error. Error 907 is a catchall term when google play gets troubled when you ask for alteration or add an app to your device.
How to Make Google Play Store Work?
Since we have already discussed that all errors come with a lot of possibilities and Error 907 is no exception. There are many different reasons that encourage Error Code 907 to occur on your devices. We will now look at the possible solutions that can fix the issue and you are recommended that you can make multiple attempts in order to fix the problem. If one does not work for you, go for the another.
Method 1: Clear Cache files from Google Play Store To Fix Error 907
Actually, it is right when your Google play store is containing a lot of data which can be troublesome. A cache is one space on a phone or computer where certain information can help you navigate the destination even faster. Although, it really helps and there are times when it creates interference between your actions and your device.
It is advised that if you clear the cache files from the Google play store you will potentially be able to fix the problem. To know the complete process of doing that you are required to follow the instructions carefully which are given below.
The first step in the process is to open the "Settings" menu of your device.
And then select the Application manager from there.
Then select the "Google Play Store" option.
All the details will get appear on the screen and then you need to select the "Clear the Cache" option.
The rest will be done by your device.
Method 2: Expand Storage Space
It is quite a generalized idea that the more storage you will have on your device, the better the application works. It is a simple rule that you keep in your mind before downloading anything you must have at least 2.5 times the space for an application while installing an update or an application.
If you have more space than what your application actually needs then you will likely make the installation process quite simple and easier. So, make sure that you have sufficient space for a new app before you click on the install button. If you want to make space for the new application then follow the step carefully.
Firstly, you need to go to the "Settings" section of your device.
Then navigate to the " Storage" option and click on it.
After that, you will get to see a page and select the apps which you don't need any longer.
Select the apps or documents and delete or uninstall them.
Method 3: Change the App's Storage Location
Many times the issue is not about the storage of your device but the location of the application can also create a lot of problems. So, if the application is installed on your device then you are advised to change the location of the application to SD Card.
To change the location of your application storage then you need to follow the instructions carefully.
Firstly, you need to select the "settings" option from your device.
Once the settings get open, you need to open "Apps" and then scroll through the list.
Select the apps that are causing you trouble and choose the option "Move to phone" option.
Once you have moved the application to another location, you need to update the app again.
Send the updated application back to your SD Card.
Method 4: Uninstall updates
There are times when the updated apps or updated Google play store create a problem on your device and you get to see Error code 907 on your screen. You must ensure that you need to uninstall the updates until the problem gets fixed. Follow the instructions to uninstall the updates.
Go to the "settings" of the Google play store.
And then select the application.
And then click on the "Uninstall Updates" option.
Method 5: Set the Correct Date and Time
You are required to check out the date and time of your phone as sometimes it happens that you are in a different time zone and in such cases, Google Play Store shows error code 907. To fix this problem, you have to read and follow the steps that we are going to share below. 
First of all, you need to open the settings app on your phone. 

Now, find out the time and date section. 

Then, you have to check if your phone time and date are correct or not. If not then you have to simply enable the automatic time zone option. 

It will simply help you to set the correct date and time of your device. 
Also check:
Final Words:
We hope that this article has helped you to fix Error 907 from the Google Play Store of your device. We would like to hear about your experience which you can mention in the comments section below.