Hello everyone, below in this article, we are going to share the multiple fixes for the Adobe GC Invoker Utility (adobegcinvoker) issues. To follow this article, you will be able to fix this issue successfully. According to File.net, "the process which is known as Adobe GC Invoker Utility is related to the software GC Invoker Utility by Adobe Systems (www.adobe.com)".
EXE which is known as extensions in the computers is the executive file format. These kinds of file formats contain the programs which are used as well as run by the computers. But, .exe files are originally run by Windows, OpenVMS, Microsoft DOS, and React OS. Mac OS and Linux OS do not originally run .exe files and use another file format instead.
Fix Adobe GC Invoker Utility Issues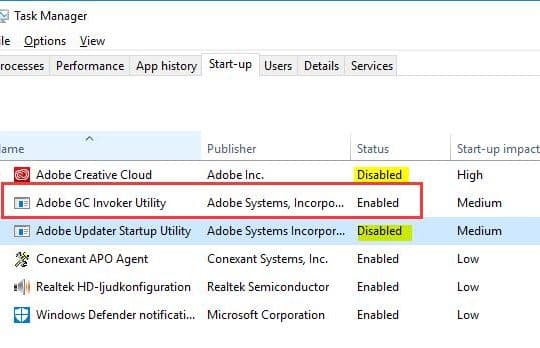 EXE files are usually harmless and these files are used to program your computer as well. However, if you get emails which are containing files or documents with the .exe extensions, you must be cautious because it may be a harmful virus, worm, or malware. You should always be cautious while downloading these files from the internet.
There are several types of EXE files that are required while running programs on your computer. From the countless program files, in this article, we are going to discuss the GC Invoker Utility or AGCInvokerUtility.exe file. So now, let's take a look below.
What is Adobe GC Invoker Utility?
The GC Invoker Utility, or sometimes it is also known as the GC Invoker Utility adobe, is created under the company Adobe Systems Incorporated. GC Invoker Utility has the legal copyright of the Copyright 2017 Adobe Systems Incorporated. Typically, this file contains the internal name of the AGCInvokerUtility.exe.
For the Windows OS, the GC Invoker Utility is not considered necessary. For the Operating Systems Windows 10/8/7/XP, the file size is approximately 316,392 bytes with a 53% occurrence, but it can also reach 2,670,056 bytes. This type of EXE file is not considered as a Windows system file but it is a Windows scheduled task. On your computer, it can also try and monitor some applications.
Typically, the GC Invoker Utility is located under the Adobe folder in C:\Program Files\Common Files. If the executive file works as intended, there should be no harm as it most likely only has a 22% hazard rating.
When is GC Invoker Utility Dangerous?
According to the Microsoft Partner website that is file.net, some of the malware files may actually disguise themselves as AGCInvokerUtility.exe. This file can be identified if the file is in the C:\Windows or C:\Windows\System32 folder to view or locate it.
You will be able to contract this .exe file by using spam emails, free application downloads online, or simply external storage devices.
When it is malware, it can release fake files and harmful software that cracks the code back of your computer.
Some of the symptoms of removing harmful GC Invoker Utility are the damages in the registry files, disabled security programs, modifications in the system settings, strange sounds from the sound card, and blocked system updates. This malicious malware is often located at %PROGRAM FILES%\AGCInvokerUtility.exe.
How to Resolve the Issues Agcinvokerutility.Exe?
If you get the error GC invoker utility.exe application, then it may slow down your computer during startup. According to a poll in the freefixer.com forums, most users only voted to delete the .exe file altogether. The deleting process of the .exe file is not much easy as sending it to the trash bin like other documents. Sometimes, it can take other applications that help you to overcome them.
By continuously scan your PC with reliable anti-virus or anti-malware applications, you can monitor your computer from the malware threat of the GC Invoker Utility. This method can help you to check the security of your systems and it can also delete harmful malware. However, the services which are offered by the anti-virus programs may differ from one to another.
Another method to view the errors is by checking for the autostart programs using MSConfig (Command Prompt) through which you will be able to see if AGCInvokerUtility.exe is part of the Window's autostart programs. Also to enable the Auto Update options, you will be able to see if the presence of the GC Invoker Utility blocks any updates.
However, if you contract malware with an extension which is known as AGCInvokerUtility.exe, below we are going to share some fixes that you can try to eradicate the issue and will be able to save your computer.
Using Free Scan Software to Fix It
There are many free scan applications are available online. However, according to Threat Fixer, in the market, the Spy Hunter is one of the most reliable free software – but there are a bunch.
Zemana AntiMalware Free
SuperAntiSpyware
Web CureIt!
Spybot Search & Destroy
Malwarebytes Anti-Malware
Once you download it, then you have to install it like every other program and be sure to choose settings that you have to apply to your computer. There you have to select your preferred language. Based on your computer installation process, it may take some time to complete.
Once you installed it successfully, then you have to simply click on the "full scan" and then wait for the program to detect the AGCInvokerUtility.exe. The scan may take some minutes to complete that depending on how many files and programs are available on your computer.
Once the program has finally detected the malware, then you have to simply click on the "fix threats" to delete the file and all its harmful effects permanently. The Spy Hunter also offers you a brief description of information regarding every scanned malware or threat that is present in your system.
To supplement the powers of the Spy Hunter, you have to download an application that checks the registry of your system. A reliable free online program is RegHunter. The mentioned program can help you to detect bugs and malware on your computer. Like the installation process of the Spy Hunter, you have to do the same until a successful installation.
After that, you have to simply click on the "Scan for registry errors now" option and then wait for a few minutes for the program to complete its job. Once all the bugs and errors have been identified and removed, then you have to click on the "Repair All Error" option to patch the damages which are caused by the GC Invoker Utility.
More Useful Guides, You Can't Miss:
Final Words
Apart from free scan programs, you can always opt for paid versions if they do not work. There are other highly hierarchical paid versions of the same software that can range from different prices depending on your budget.
Remember, executive files are required to work on your computer. You have to be careful while contracting suspicious.exe files from the external storage devices of any friends, promotional emails or spam, or also downloading applications from the untrusted sites.
Adobe uses AGCInvokerUtility.exe as an anti-piracy file for its other programs. Again, this is not required for Windows and you can always delete the file if it does nothing for your computer. Always remember to scan your PC system to ensure that the total security state is safe and stable.
Hopefully, this article will be beneficial for you regarding Adobe GC Invoker Utility issues. Now, if you want to share your feedback or if you have any queries or any suggestions regarding this article, then you can comment below in the given comment section and share your experience with us, we will get back as soon as possible.