0x000000c2 – Are you a regular Windows operating system then with time passing, you might have faced some errors such as 0x000000C2 to your OS which is quite obvious due to some alternation in their regular function, they show errors in every type of OS.
You might have ever come across the Bad_Pool_Caller stop error sometimes now and even recently and that is the reason you are here in search of the solution.
0x000000c2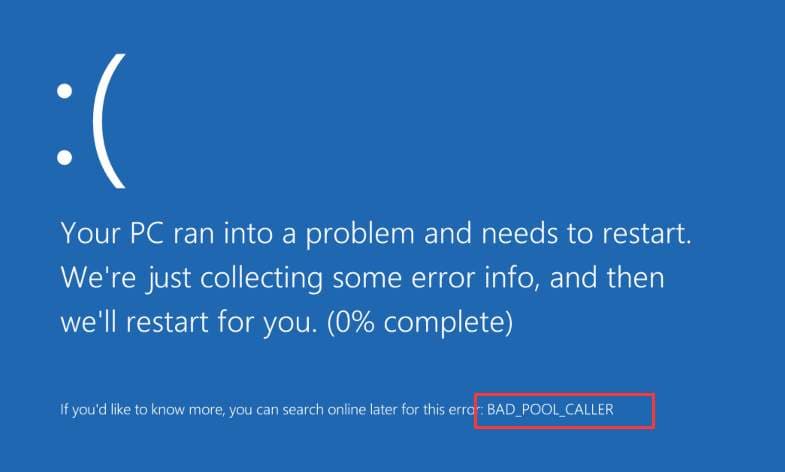 The same we do provide you the clarification over the issue raised and also give you step by step process that helps you sort out this issue of Bad Pool Caller by yourself.
Hence read the article till the end and you will come to know how you can do it.
The Problem of Bad_Pool_Caller Error [0x000000c2]
This problem leaves a sign of Freezing the Computer and showing of blue Screen and you see an error 0x000000C2.
Problem Cause
This error is normally caused by the program trying to request resources that were unavailable.
Possible Solution
Though there are various possible steps that you can take to ensure the problem sort out; the first thing that you will have to do is that you restart your computer.
Even then if the problem continues, then simply follow some of the ways that are being mentioned below that can fix BAD POOL CALLER Stop Error 0x000000C2.
Install Latest Drive
Sometimes since the Driver is not updated with the Program, the workload exceeds, and hence it is advised to update the driver now and then.
A Driver is a software instructor that is used as a mediator for the communication between Operating systems and Computer Hardware.
Corrupt and Outdated drivers are among the most common reason which is behind the Error 0x000000C2. There are two ways that are given you below to install the device drivers:
Steps by Step Process to Install Driver via Windows 8.1 Device Manager
Window Device manager helps you identify any faulty driver by looking for the list of devices. You can also search for the new driver in the list of devices. This device manager also helps you search for new drivers for any given device. Here are the steps that help you find out the registered drivers of devices.
First of all press Window Key + X and click on Device Manager.
Once in the device manager window, right-click on the device and then click on the Update Software.
Now click on Search Automatically for Updated Driver Software
Then wait while it gets downloaded.
Use a Utility Software
Utility software can automatically download and install the driver for you. Use DriverDoc or some other reliable utility so that they can install the driver quickly, especially when you do not know the name of the device driver and its installation. Driver utilities can really help you in this way.
Use System Restore
Such errors occur when system files and folders are changed. Sometimes harmful changes can cause a malfunction in your computer. The easiest way to reverse these changes is to use System Restore. Click here now to learn more about System Restore.
Sort Out Damaged and Corrupt System Files
As you have seen above, it is the damaged files that affect the computer. Better go with the below-given command that helps you fix the missing and corrupt system files from the computer.
First of all Press Window Key + X and choose Command Prompt (ADMIN) from the appearing menu.
Now in the Command Prompt Window, type SFC/scannow and then press Enter
You are done. But even if, this doesn't work, then move to the next step.
Refresh Window 10 System
BAD POOL CALLER Stop Error 0x000000C2 is much easier to fix in Windows 10 with the help of the System Refresh Feature. This reinstalls Windows 10 but keeps personal files intact. Here is the process to sort out Step by Step:
Press Window Key + I and then click on Control Panel.
Now click on the Update and Recovery option there
Under that click on the Recovery option
Now click on the 'Get Started' button present just below the "Refresh Your PC Without Affecting Your Files" option.
Finally, just follow the instructions that help you refresh your Windows 8/ Windows1 installation.
Window 8 System Reset
If you still can't get rid of the stop error 0x000000C2, then the sensible thing is to reinstall Windows. In Windows 8 you can use the reset feature to easily reinstall Windows 8. Using this will delete your personal files and settings.
Press Window Key + I and choose the change PC Setting Option.
Now click on the Update Recovery Option.
Then click on Recovery.
Now click on Get Started present under the option 'Remove everything and reinstall Windows
Now follow as you are instructed on the screen to reset your Windows 10 Installation.
FAQs
What Does Bad_pool_caller Mean?
Basically, this error indicates that you may need to revert to a previous configuration of your PC. You have to turn off your PC by clicking and holding the power button and then simply wait and press it again and turn it on again. When you see your PC manufacturer's logo then you have to turn off your PC again. You need to repeat this process until you will see the message please wait. 
As with the other windows BSOD errors, the bad pool caller blue screen error also leads to the windows system crash and you also need to restart your PC in order to prevent your system from being damaged. 
Is Bad Pool Caller a Hardware Problem?
Sometimes, bad pool caller windows 10 error takes place because of hardware failure or corrupt hardware. You can simply check if the installed hardware of your system is working properly by simply using the hardware and devices troubleshooter. 
What is Bad Pool Caller 0x000000c2?
Basically, a pooled unit in windows will get used to simply allocate the memory for the drivers. The bad pool caller means that a processor thread is creating a bad pool request. 
More Related Guide:
Final Words
When you are reading this line, you might be clarified with the thing that helps you sort out the problem of Bad Pool Caller also known as 0x000000c2 error and you have also seen the various ways that help you fix it step by step.
All the steps mentioned above help you sort out the issue now and then. All steps you mentioned above don't require any professional skill but just one-to-one instruction follow and this ultimately brings you out of the situation.
Hope all the instructions and illustration mentioned above help you come up with the issue and solves your problem most effectively. If the instructions help you out, then share your experience below.